Apartments Near CSU Fullerton
The Best Apartments Near CSU Fullerton: Malden Station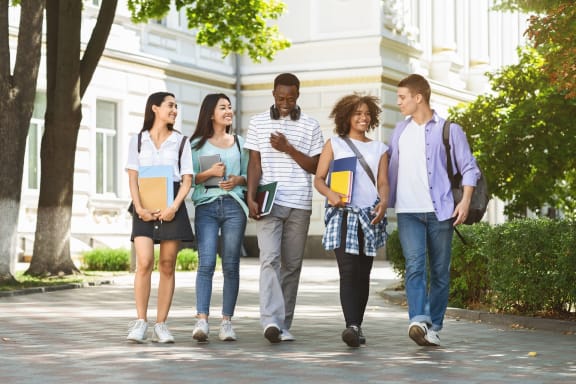 California State University Fullerton is a vibrant, closely-connected community of students passionate about getting their education and making their dreams come true. If you're attending CSU Fullerton, chances are you're a real go-getter with a real love of community involvement. You'll definitely want to live right near the campus to make sure you get your money's worth of friendships and connections.

But while the university has housing options, getting into the right one can be a challenge. You may also need to consider some apartments near CSU Fullerton if you really want to get the most for your money without losing out on that community feeling.

CSU Fullerton has a couple of housing options for students:
1. Residence halls, offering double and triple occupancy bedrooms and community bathrooms on campus
2. Apartments, offering single occupancy in four-bedroom spaces or double occupancy in three-bedroom spaces
3. Summer housing, offering space to stay for $45 a night

While on-campus housing can be a big blessing and a chance to connect with the community, that may not be your thing. Plus, with application deadlines and long waitlists, you may not be able to get the room you're looking for. If you're interested in more independence with your own room, plus the option to share a larger space with your closest college friends, trying out some different apartments near CSU Fullerton could be just the thing.
Off-Campus Student Housing at Malden Station
Just minutes away from CSU Fullerton, Malden Station by Windsor is a vibrant community all on its own. Located on Santa Fe Avenue, Malden Station is built around a host of community spaces and common areas designed to keep you close to your fellow residents, including other CSU Fullerton students. With a walk score of 94, you'll have no trouble walking to and from your classes if you choose to make your home at Malden Station. Plus, its proximity to the Fullerton Train Station provides a great transportation opportunity for cold and rainy days.
Malden Station is also home to tons of great amenities designed to delight students in their free time. At the community you'll find:
Free Wi-Fi throughout the common areas

Exclusive work centers for homework or other study

Swimming pool and spa

A resident lounge

A fitness center complete with a multiscreen fit wall and bike room

A pet park and spa

Reserved, assigned resident parking in the 6-story parking garage
Electric vehicle charging stations Malden Station is a very pet-friendly space with tons of outdoor gathering areas for residents to enjoy. There are even gas barbecues so friends can gather around and cook up a delicious meal together!
Plus, the views are amazing. Simply a glance out the window shows you a breathtaking view of the city, but Malden also offers balconies and patios with their rooms so you have more freedom to enjoy the open air. There's so much to enjoy both within and without the Malden Station apartments!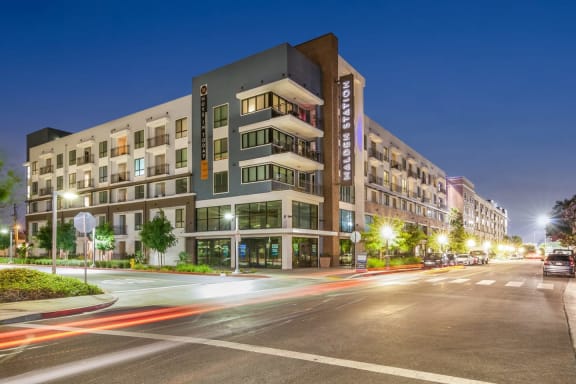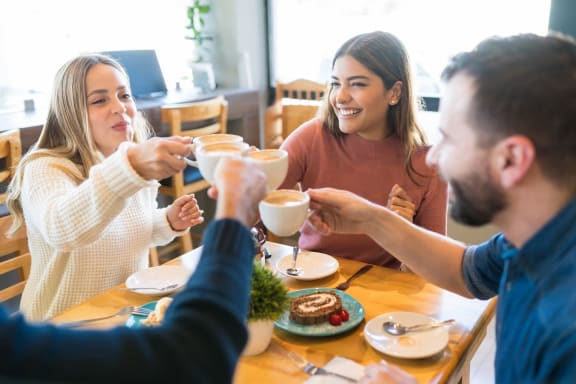 The Best Restaurants and Nightlife Spots for Students
As a student, you want much more than an education from your college experience. Malden Station is right near some of the best downtown hot spots for students to enjoy some good food and nightlife. For example, you'll be able to:

Shop at the nearby Costco, Ralph's, International India Bazaar, or Sprouts Farmer's Market

Hit up great meats at Back Alley Bar & Grill, Heroes Bar & Grill, or Florentine's Grill

Enjoy some nightlife adventures at The Olde Ship, The Continental Room, or BIGS Fullerton

Try authentic cuisines at J's Korean Cuisine, Sushi Bomb, or Kentro Greek Kitchen

Nurse your caffeine habit at Monkey Business Cafe, Pilgrim's Coffee House, or The Night Owl

While living in your apartments near CSU Fullerton, you'll always find something to entertain and delight you. Each one of these spots is just a few miles from your apartment complex and from the University, making them great options for gathering with friends to enjoy a break from homework.
Other Benefits for Students
Malden Station is at the sweet spot when it comes to enjoying good food and nighttime fun. But you'll find plenty of other entertainment options nearby, from authentic old shops to huge amusement parks. Plus, if you enjoy history, Fullerton has got some great cultural hotspots to take a look at.
Not far from your Fullerton apartments, you'll be able to:
Find new treasures at Half Off Books Records Films or at Orangefair Marketplace

Discover balance and fitness at Purple Yoga, CrossFit Structured, or Chuze Fitness

Learn about your community at the Fullerton Art Walk, Fullerton Train Museum, or the Fullerton Museum Center

Spend a fun weekend out at Disneyland or the AMC DINE-IN Fullerton 20

And more!

Not only can you entertain your student friends in your apartments, but you can easily take them out on the town to find even more fun! Plus, your family will never be bored if they choose to come and visit you while you're busy in school.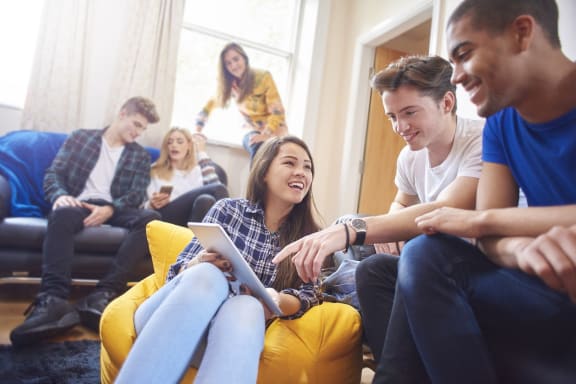 Student Resources for Finding Housing in Fullerton
If you're interested in applying for apartments near CSU Fullerton, there are tons of resources to help you. For starters, don't hesitate to take a look at what the University has to offer for students. Then, take a look at nearby Fullerton apartments to make the best decision for you.